A Death in St. Augustine (full documentary) | FRONTLINE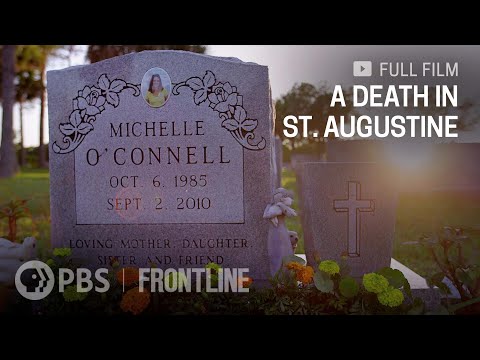 FRONTLINE and The New York Times investigate what can go wrong when the police are faced with domestic violence allegations within their own ranks. (Aired 2013)
This journalism is made possible by viewers like you. Support your local PBS station here: http://www.pbs.org/donate​.
On the night she broke up with her police officer boyfriend, Michelle O'Connell was found dead from a gunshot in the mouth. Next to her was her boyfriend's semi-automatic service pistol. The sheriff's office ruled it suicide — but was it? In "A Death in St. Augustine," FRONTLINE and The New York Times investigate the death of this young, single mother in Florida — and how effectively police handle cases involving their own officers, especially when there are allegations of domestic violence.
Love FRONTLINE? Find us on the PBS Video App, where there are more than 300 FRONTLINE documentaries available to watch any time: https://to.pbs.org/FLVideoApp​
#Documentary
Subscribe on YouTube: http://bit.ly/1BycsJW​
Instagram: https://www.instagram.com/frontlinepbs​
Twitter: https://twitter.com/frontlinepbs​
Facebook: https://www.facebook.com/frontline
Funding for FRONTLINE is provided through the support of PBS viewers and by the Corporation for Public Broadcasting. Major funding for FRONTLINE is provided by the Abrams Foundation; the John D. and Catherine T. MacArthur Foundation; Park Foundation; and the FRONTLINE Journalism Fund with major support from Jon and Jo Ann Hagler on behalf of the Jon L. Hagler Foundation, and additional support from Koo and Patricia Yuen.