A Missing Afghan Woman & an Activist Unable to Help | Taliban Takeover | FRONTLINE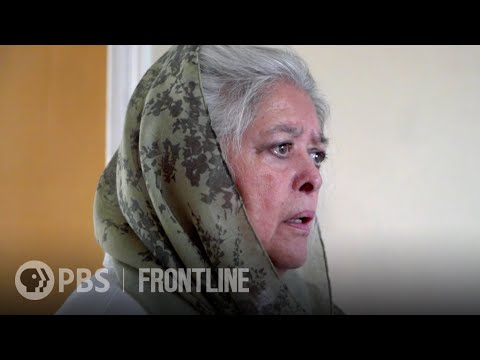 While FRONTLINE correspondent Najibullah Quraishi was filming an interview for the new documentary "Taliban Takeover" with Mahbouba Seraj, one of Afghanistan's leading women's rights advocates, something unexpected happened.
Subscribe on YouTube: http://bit.ly/1BycsJW
As the above excerpt from the documentary recounts, another woman entered the building, photo in hand of her 22-year-old granddaughter, who had gone missing and, the woman feared, might have been abducted by the Taliban.
"She said: 'Mom, I don't know where they've taken me. The Taliban are around me. I don't know what's happening. They're asking me if I'm engaged. If not, they can marry me to someone,'" the visitor told Seraj and Quraishi, describing the last phone call her granddaughter had made to her mother.
Unable to help and worried her visitor would be out after dark, Seraj encouraged the woman to return home. Once the woman had left the building, Seraj — who was named one of TIME magazine's most influential people of 2021 — turned to Quraishi, her voice rising, her anger apparent.
"I cannot protect her," Seraj said. "I cannot protect any woman."
The remarkable scene — which unfolds in "Taliban Takeover," premiering Oct. 12 and excerpted above — is a stark window into the fear and uncertainty many Afghan civilians, especially women and ethnic minorities, face in the wake of the Taliban's return to power and the U.S. withdrawal after 20 years of war. FRONTLINE has hidden the identities of the woman seeking help and her granddaughter for their safety.
Seraj told Quraishi that despite the Taliban's quick moves to clamp down on women's rights, she wants the new government to engage with her on the issue.
"I cannot tell you how much I want to really talk to them. I am here in Afghanistan, I want to tell them, and I'm not going anywhere. I'm sitting right here," said Seraj, who had recently passed up a chance to leave the country. "Because the women, the 18 million women of Afghanistan, are not dead, and the 18 million women of Afghanistan, they really need a voice. And I will be that for as long as I can. And I would love to sit down with them and talk to them. I would really love to."
But in the moments after the woman's visit, Seraj felt powerless.
"There's nothing I can do," she said. "There's nothing I can do."
"Taliban Takeover" premieres Oct. 12, 2021 on FRONTLINE: https://to.pbs.org/3iQYHTp
For more reporting in connection with this investigation, visit FRONTLINE's website: https://to.pbs.org/3iQYHTp
#Afghanistan #Women's Rights in Afghanistan #Mahbouba Seraj
"Taliban Takeover" is a FRONTLINE production with Clover Films. The correspondent is Najibullah Quraishi. The producer is Jamie Doran. The senior producers are James Jacoby and Molly Knight Raskin. The executive producer for Clover Films is Jamie Doran. The executive producer for FRONTLINE is Raney Aronson-Rath.
Find FRONTLINE on the PBS Video App, where there are more than 300 FRONTLINE documentaries available for you to watch any time: https://to.pbs.org/FLVideoApp Subscribe on YouTube: http://bit.ly/1BycsJW Instagram: https://www.instagram.com/frontlinepbs Twitter: https://twitter.com/frontlinepbs Facebook: https://www.facebook.com/frontline FRONTLINE is produced at GBH in Boston and is broadcast nationwide on PBS. Funding for FRONTLINE is provided through the support of PBS viewers and by the Corporation for Public Broadcasting. Major funding for FRONTLINE is provided by the Ford Foundation. Additional funding is provided by the Abrams Foundation; the John D. and Catherine T. MacArthur Foundation; Park Foundation; and the FRONTLINE Journalism Fund with major support from Jon and Jo Ann Hagler on behalf of the Jon L. Hagler Foundation and additional support from Koo and Patricia Yuen.