Battle for Hong Kong (full documentary) | FRONTLINE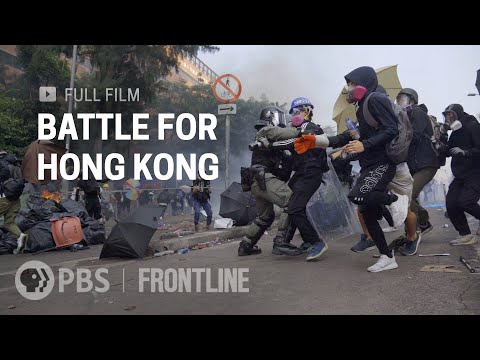 25 years ago this July, the former British colony of Hong Kong was returned to China and granted special status for 50 years, allowing for far more freedoms than in mainland China. Activists warn those freedoms are narrowing. Revisit FRONTLINE's look at the pro-democracy protests that started in mid-2019 in Hong Kong, the largest on Chinese territory since Tiananmen Square. (Aired 2020)
This journalism is made possible by viewers like you. Support your local PBS station here: http://www.pbs.org/donate​.
In 2019, a controversial extradition bill that would have allowed criminal suspects to be sent for trial in mainland China sparked a massive pro-democracy movement in Hong Kong. At the start, the vast majority of protesters were peaceful, but a few tried to take on the police. "Battle for Hong Kong" traced what happened next. With remarkable access, the documentary followed five young protesters through intense and escalating clashes with Hong Kong's police. The protesters said they're fighting for their freedom against the communist government of China, which is due to take complete control of Hong Kong in 2047. China, meanwhile, said the protestors were "radicals," "thugs" and "separatists." Go inside the protests and the fight over Hong Kong's future in "Battle for Hong Kong."
Love FRONTLINE? Find us on the PBS Video App, where there are more than 300 FRONTLINE documentaries available to watch any time: https://to.pbs.org/FLVideoApp​
#Documentary #HongKong #China
Subscribe on YouTube: http://bit.ly/1BycsJW​
Instagram: https://www.instagram.com/frontlinepbs​
Twitter: https://twitter.com/frontlinepbs​
Facebook: https://www.facebook.com/frontline
FRONTLINE is produced at GBH in Boston and is broadcast nationwide on PBS. Funding for FRONTLINE is provided through the support of PBS viewers and by the Corporation for Public Broadcasting. Additional funding is provided by the Abrams Foundation; the John D. and Catherine T. MacArthur Foundation; Park Foundation; the Heising-Simons Foundation; and the FRONTLINE Journalism Fund with major support from Jon and Jo Ann Hagler on behalf of the Jon L. Hagler Foundation, and additional support from Koo and Patricia Yuen.
CHAPTERS:
Prologue – 00:00
The 2019 Hong Kong Protests – 01:53
Hong Kong's Riot Police and Protesters – 08:44
Protesters Fear China's Communist Government – 13:43
Agnes Chow, Democracy Activist – 19:00
Clashes on China's National Day – 22:06
Hong Kong's Hard-line Protesters – 35:22
Hong Kong's Future – 46:17
Credits – 51:57