How Brazil is Fighting Against Bolsonaro's Policies | Amazon | Deforestation | ENDEVR Documentary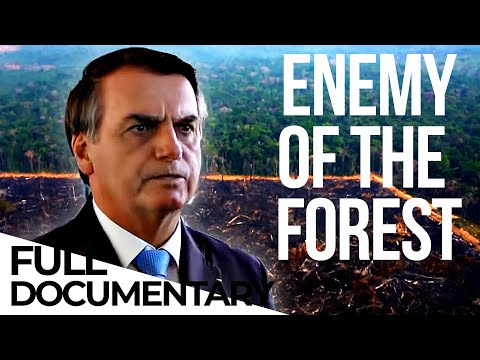 How Brazil is Fighting Against Bolsonaro's Policies | Amazon | Deforestation | Investigative Documentary from 2021
Deforestation in Brazil's Amazons increased 30% since Brazilian President Jair Bolsonaro came to power. More than 120,000 square kilometers of the Amazon forest have been destroyed: an area about a fifth the size of Wales in the last 10 years. That's the size of 8.4 million football fields. It's displaced around 400 indigenous groups but has also decimated a vast store of carbon that is vital for tackling climate change. The jungles produce 20% of the world's oxygen. We go on an investigative journey to reveal the gold rush pushing communities over the edge. Along the way, we meet the Mundurukku aboriginal tribes and activists fighting to stop the destruction of Amazon jungles. We also meet activists seeking solutions for a sustainable lifestyle.
About the "Politics Of Climate Change" series:
The World Health Organization puts the number of deaths from climate change at 250,000 by 2050.
Droughts, wildfires, floods, and catastrophic rains only lead to one question: Has the politics of climate change finally reached the tipping point? CNA traverses around the world to investigate Australia's coal conundrum, Pakistan's Himalayan meltdown and Brazil Amazonian battle. Along the way, we meet people and activists trying to find ways to tackle the biggest issue of the 21st century.
A combination of bad policies and political apathy is speeding up climate change. Have we reached the tipping point? Can it be reversed?
▬▬▬▬▬▬▬▬▬
Subscribe ENDEVR for free: https://bit.ly/3e9YRRG
Facebook: https://bit.ly/2QfRxbG
Instagram: https://www.instagram.com/endevrdocs/
▬▬▬▬▬▬▬▬▬
#FreeDocumentary #ENDEVR #Brazil
▬▬▬▬▬▬▬▬▬
ENDEVR explains the world we live in through high-class documentaries, special investigations, explainers videos and animations. We cover topics related to business, economics, geopolitics, social issues and everything in between that we think are interesting.