How Corinthian Colleges Contributed to the Student Loan Debt Crisis (full documentary) | FRONTLINE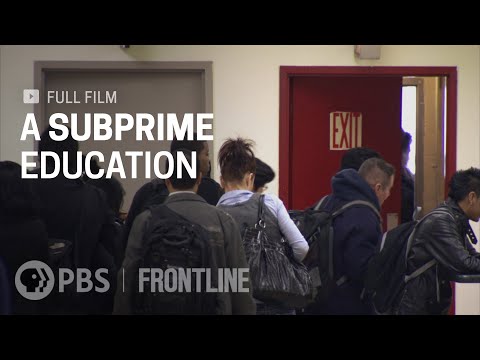 FRONTLINE investigates allegations of fraud and predatory behavior in the troubled for-profit college industry and examines the 2015 collapse of the Corinthian Colleges chain. (Aired 2016)
This journalism is made possible by viewers like you. Support your local PBS station here: http://www.pbs.org/donate​.
In "A Subprime Education," correspondent Martin Smith explores how for-profit colleges have often been advertised as the best option for low-income students who can't afford a more traditional four-year degree. Yet some of these colleges have been collecting money and leaving students in debt, without degrees, and unprepared to face the job market — despite aggressive recruitment pitches promising the contrary.
Love FRONTLINE? Find us on the PBS Video App, where there are more than 300 FRONTLINE documentaries available to watch any time: https://to.pbs.org/FLVideoApp​
#Documentary #StudentDebt #College
Subscribe on YouTube: http://bit.ly/1BycsJW​
Instagram: https://www.instagram.com/frontlinepbs​
Twitter: https://twitter.com/frontlinepbs​
Facebook: https://www.facebook.com/frontline
FRONTLINE is produced at GBH in Boston and is broadcast nationwide on PBS. Funding for FRONTLINE is provided through the support of PBS viewers and by the Corporation for Public Broadcasting. Additional funding is provided by the Abrams Foundation; the John D. and Catherine T. MacArthur Foundation; Park Foundation; the Heising-Simons Foundation; and the FRONTLINE Journalism Fund with major support from Jon and Jo Ann Hagler on behalf of the Jon L. Hagler Foundation, and additional support from Koo and Patricia Yuen.
CHAPTERS:
The Rise of For-Profit Colleges – 00:00
Congress Starts Paying Attention – 9:38
Kamala Harris & the Corinthian Colleges Investigation – 15:15
Corinthian Colleges Files for Bankruptcy – 19:48
Tightening Regulations for For-Profit Colleges – 25:38
Credits – 28:03