Living in a Kharkiv Metro Station, Amid Russia's War on Ukraine | FRONTLINE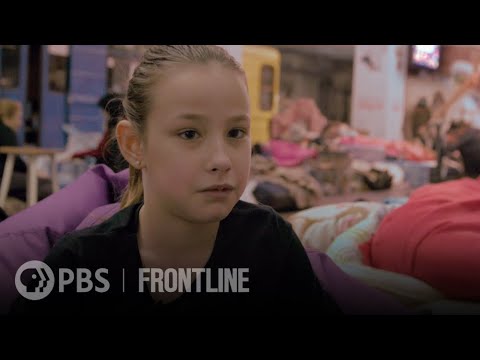 "We understand there's a war. But we don't understand why it has started," said one 10-year-old living underground. An excerpt from the new documentary "Ukraine: Life Under Russia's Attack."
This journalism is made possible by viewers like you. Support your local PBS station here: http://www.pbs.org/donate.
Before Russia invaded Ukraine in February 2022, the Heroes of Labor metro station in the Ukrainian city of Kharkiv was an ordinary subway stop.
By late March, the station had become something else for hundreds of Ukrainians: home.
With their families, a smattering of their belongings and their pets — kittens, dogs, birds — these residents of Ukraine's second-largest city moved their lives underground and set up camp, seeking safety amid Russia's assault.
An up-close look at their wartime reality unfolds in the above excerpt from the new documentary "Ukraine: Life Under Russia's Attack." Filmed during the first three months of the war, the documentary chronicles the experiences of Ukrainians living through the battle for Kharkiv: civilians caught in the shelling; first responders risking their own lives; and so many people, like Vika, trying to survive underground.
"Ukraine: Life Under Russia's Attack" will be available to stream in full starting Aug. 2, 2022.
"Ukraine: Life Under Russia's Attack" is a Basement Films production for GBH/FRONTLINE in association with Channel 4. Filmed, produced and directed by Mani Benchelah and Patrick Tombola; produced in Ukraine by Volodymyr Pavlov; directed in London by Teresa Smith. The editor is Agniezska Liggett. The production manager is Leah Downs. The executive producers are Ben de Pear, Edward Watts and Cate Blanchett. The executive producer and editor-in-chief for FRONTLINE is Raney Aronson-Rath.
#Ukraine #UkraineWar #UkraineDocumentary
Find FRONTLINE on the PBS Video App, where more than 300 of our documentaries available to watch any time: https://to.pbs.org/FLVideoApp
Subscribe on YouTube: http://bit.ly/1BycsJW
Instagram: https://www.instagram.com/frontlinepbs
Twitter: https://twitter.com/frontlinepbs
Facebook: https://www.facebook.com/frontline
FRONTLINE is produced at GBH in Boston and is broadcast nationwide on PBS. Funding for FRONTLINE is provided through the support of PBS viewers and by the Corporation for Public Broadcasting. Additional support for FRONTLINE is provided by the Abrams Foundation, the John D. and Catherine T. MacArthur Foundation, Park Foundation, the Heising-Simons Foundation; and the FRONTLINE Journalism Fund, with major support from Jon and Jo Ann Hagler on behalf of the Jon L. Hagler Foundation, and additional support from Laura DeBonis.