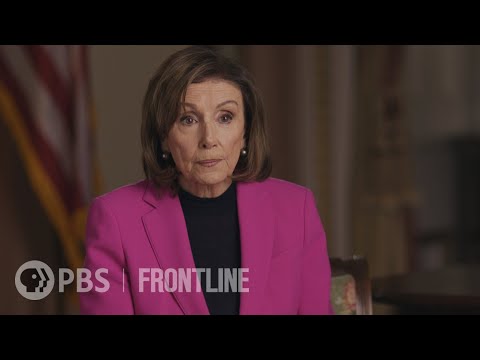 In an interview for the FRONTLINE documentary "Pelosi's Power," Speaker of the U.S. House of Representatives Nancy Pelosi offers her own perspective on her decades in Congress and shares details about key legislative battles.
"I said, 'Well, we have an opportunity of a generation,'" she tells FRONTLINE. "We're not going to let anything stand in our way to pass the Affordable Care Act. If there is a big fence blocking us, we will push open the gate. If that doesn't work, we'll climb the fence. If that doesn't work, we'll pole-vault in.'"
Pelosi was first elected as a U.S. representative (D-Calif.) in 1987. She served as speaker of the House from 2007 until 2011 and resumed the role again in 2019.
The following interview was conducted by FRONTLINE's Jim Gilmore on Dec. 6, 2021. It has been edited for clarity and length.
"Pelosi's Power" premieres March 22, 2022.
This interview is being published as part of FRONTLINE's Transparency Project, an effort to open up the source material behind our documentaries. Explore the transcript of this interview, and others, on the FRONTLINE website: https://www.pbs.org/wgbh/frontline/about-frontlines-transparency-project/
#PelosisPower #NancyPelosi #FrontlineInterview
Love FRONTLINE? Find us on the PBS Video App, where there are more than 300 FRONTLINE documentaries available to watch any time: https://to.pbs.org/FLVideoApp
Subscribe on YouTube: http://bit.ly/1BycsJW
Instagram: https://www.instagram.com/frontlinepbs
Twitter: https://twitter.com/frontlinepbs
Facebook: https://www.facebook.com/frontline
FRONTLINE is produced at GBH in Boston and is broadcast nationwide on PBS.
Funding for FRONTLINE is provided through the support of PBS viewers and by the Corporation for Public Broadcasting. Additional funding for FRONTLINE is provided by the Abrams Foundation; the John D. and Catherine T. MacArthur Foundation; Park Foundation; and the FRONTLINE Journalism Fund with major support from Jon and Jo Ann Hagler on behalf of the Jon L. Hagler Foundation, and additional support from Koo and Patricia Yuen.