Plot to Overturn the Election (full documentary) | FRONTLINE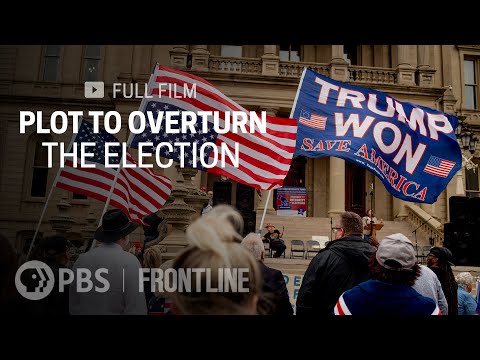 How did false claims of election fraud make their way to the center of American politics? FRONTLINE and ProPublica investigate the plot to overturn the 2020 U.S. presidential election.
This journalism is made possible by viewers like you. Support your local PBS station here: http://www.pbs.org/donate.
FRONTLINE and ProPublica uncover how a small group of people helped to create some of the core narratives of fraud that President Donald Trump and many others would go on to champion after the election — and how the legacy of their effort is impacting democracy and shaping elections to come.
"Plot to Overturn the Election" is a FRONTLINE production with Midnight Films, LLC in partnership with ProPublica. The correspondent is A.C. Thompson. The producer, writer and director is Samuel Black. The executive producer for FRONTLINE is Raney Aronson-Rath.
#2020Election #USPolitics #Documentary
Love FRONTLINE? Find us on the PBS Video App, where there are more than 300 FRONTLINE documentaries available to watch any time: https://to.pbs.org/FLVideoApp
Subscribe on YouTube: http://bit.ly/1BycsJW
Instagram: https://www.instagram.com/frontlinepbs
Twitter: https://twitter.com/frontlinepbs
Facebook: https://www.facebook.com/frontline
FRONTLINE is produced at GBH in Boston and is broadcast nationwide on PBS. Funding for FRONTLINE is provided through the support of PBS viewers and by the Corporation for Public Broadcasting. Additional support for FRONTLINE is provided by the Abrams Foundation, the John D. and Catherine T. MacArthur Foundation, the Park Foundation; and the FRONTLINE Journalism Fund with major support from Jon and Jo Ann Hagler on behalf of the Jon L. Hagler Foundation, and additional support from Koo and Patricia Yuen.