Shots Fired (full documentary) | FRONTLINE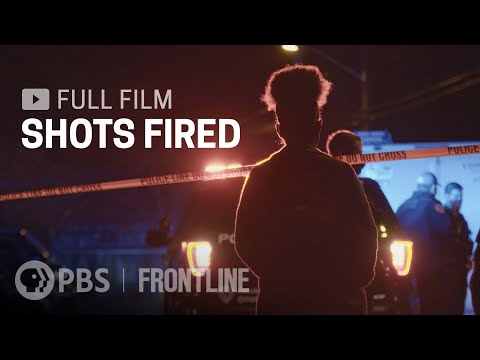 Amid record police shootings in Utah, an investigation into the use of deadly force in the state with FRONTLINE's local journalism partner The Salt Lake Tribune.
This journalism is made possible by viewers like you. Support your local PBS station here: http://www.pbs.org/donate.
"Shots Fired" is the first nationally broadcast documentary stemming from FRONTLINE's Local Journalism Initiative, an innovative effort to support and strengthen investigative reporting in communities around the country that's funded by the John S. and James L. Knight Foundation and the Corporation for Public Broadcasting, and based out of FRONTLINE's newsroom at GBH in Boston.
The documentary offers a one-of-a-kind look at police shootings in Utah over the past decade, drawing on a unique database begun by The Salt Lake Tribune and expanded with FRONTLINE's assistance over the past year. The two organizations filed hundreds of records requests; combed through court documents, 911 transcripts, internal investigations and media reports; examined body camera footage; and spoke to law enforcement officials, experts and families of people shot by police.
In some cases, the data is incomplete and the numbers too small to draw broad conclusions. But the vast majority of the 226 shootings FRONTLINE and The Salt Lake Tribune documented over the past decade had one thing in common: They were ruled justified. Among the additional findings: Racial and ethnic minorities were disproportionately represented; more than 40% of people shot at were identified by police or families to have had a mental health issue, a mental disability or to have been suicidal; 34 Utah officers have been involved in at least two shootings in their career; and many of the officers who fired their weapons cited their training.
Explore these and more findings in the documentary, which premieres Nov. 23, 2021 on FRONTLINE: https://to.pbs.org/3CPE7cZ
For more reporting in connection with this investigation with our Local Journalism Initiative partner The Salt Lake Tribune, visit FRONTLINE's website: https://to.pbs.org/3CPE7cZ
#Documentary #Policing #WhenPoliceShoot
"Shots Fired" is a FRONTLINE production with Five O'Clock Films. The writer, producer and director is FRONTLINE/Hollyhock filmmaker-in-residence Abby Ellis. The reporters are Taylor Eldridge, Paighten Harkens, Jessica Miller, Muna Mohamed and Sam Stecklow. The senior producer is Frank Koughan. The executive producer of FRONTLINE is Raney Aronson-Rath.
Find FRONTLINE on the PBS Video App, where there are more than 300 FRONTLINE documentaries available for you to watch any time: https://to.pbs.org/FLVideoApp
Subscribe on YouTube: http://bit.ly/1BycsJW
Instagram: https://www.instagram.com/frontlinepbs
Twitter: https://twitter.com/frontlinepbs
Facebook: https://www.facebook.com/frontline
FRONTLINE is produced at GBH in Boston and is broadcast nationwide on PBS. Funding for FRONTLINE is provided through the support of PBS viewers and by the Corporation for Public Broadcasting. Major funding for FRONTLINE is provided by the Ford Foundation. Additional funding is provided by the Abrams Foundation; the John D. and Catherine T. MacArthur Foundation; Park Foundation; and the FRONTLINE Journalism Fund with major support from Jon and Jo Ann Hagler on behalf of the Jon L. Hagler Foundation and additional support from Koo and Patricia Yuen.
FRONTLINE's Local Journalism Initiative is funded with support from the John S. and James L. Knight Foundation and the Corporation for Public Broadcasting. Additional support for "Shots Fired" by the Hollyhock Foundation.