The Untouchables (full documentary) | FRONTLINE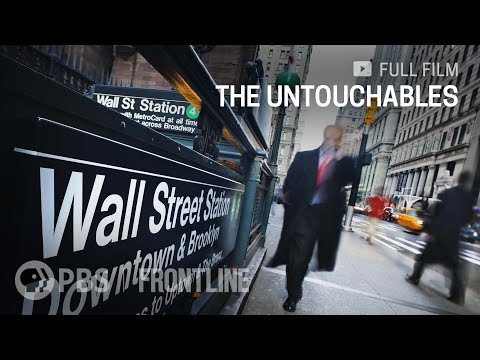 FRONTLINE investigates why Wall Street's leaders escaped prosecution for any fraud related to the sale of bad mortgages. (Aired 2013)
This journalism is made possible by viewers like you. Support your local PBS station here: http://www.pbs.org/donate​.
Are Wall Street executives "too big to jail"? In the 2013 documentary, "The Untouchables," producer and correspondent Martin Smith ("Money, Power, and Wall Street") investigates why the U.S. Department of Justice failed to act on credible evidence that Wall Street knowingly packaged and sold toxic mortgage loans to investors, loans that brought the U.S. and world economies to the brink of collapse. Through interviews with top prosecutors, government officials and industry whistleblowers, FRONTLINE reports allegations that Wall Street bankers ignored pervasive fraud when buying pools of mortgage loans.
Love FRONTLINE? Find us on the PBS Video App, where there are more than 300 FRONTLINE documentaries available to watch any time: https://to.pbs.org/FLVideoApp​
#Documentary #WallStreet
Subscribe on YouTube: http://bit.ly/1BycsJW​
Instagram: https://www.instagram.com/frontlinepbs​
Twitter: https://twitter.com/frontlinepbs​
Facebook: https://www.facebook.com/frontline
Funding for FRONTLINE is provided through the support of PBS viewers and by the Corporation for Public Broadcasting. Major funding for FRONTLINE is provided by the Abrams Foundation; the John D. and Catherine T. MacArthur Foundation; Park Foundation; and the FRONTLINE Journalism Fund with major support from Jon and Jo Ann Hagler on behalf of the Jon L. Hagler Foundation, and additional support from Koo and Patricia Yuen.